Oliveology was created in 2009 as a means of sharing and enjoying the culinary treasures and gastronomic traditions of Greece.
We only work with independent, artisan farmers who produce truly high quality items using traditional and sustainable techniques. In this way we can help preserve traditional methods and support independent local producers in Greece.
We believe strongly in the benefits of organic food both to individuals and to society as a whole. The traditional Greek diet (based on olive oil and olives, fruit, vegetables, grains, legumes, and herbs) is considered one of the healthiest in the world.
The olive tree is one of the cornerstones of our culture and history. Olive oil and olives are deeply embedded in our recipes and our national products since antiquity. We would like to share this passion for the olive tree with you!
We focus on quality, flavour, nutritional value and provenance rather than quantity. This is the reason many of our products are only available in limited quantities and sometimes only available only when they are in season!
To bring products of superior taste, quality and goodness
To support organic, sustainable farming
To conserve a naturally balanced ecosystem
To love and respect the land
To preserve traditional farming techniques
To promote healthy living
To share the Greek culinary heritage and the art of home cooking





Our family-owned independent smallholding has strong traditional farming roots and dedicated organic values.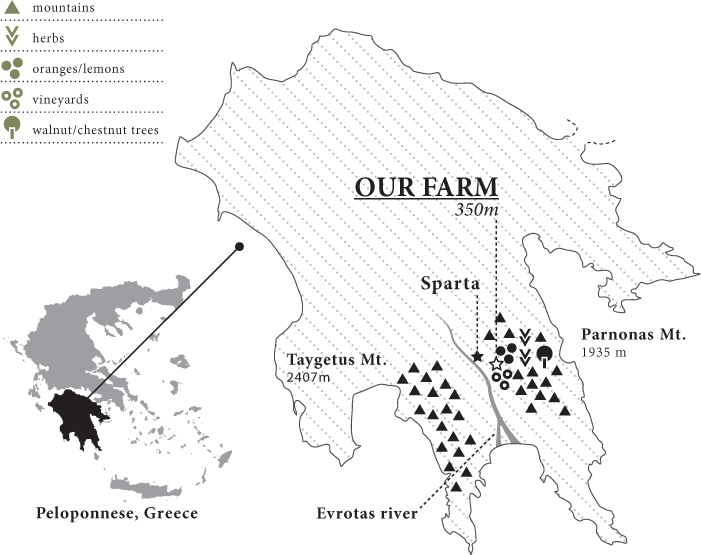 The farm is located at the foot of the Taygetus mountains, in a small village near Sparta. In this area of the Peloponnese peninsula, olives have been cultivated for 3000 years. This ancient heritage has provided some of the best olive growing conditions in the world. Perfect elevation at 350m, rich soil and benevolent climatic conditions form an ideal combination for the cultivation of the olive tree. All the estate's olive trees have been cultivated by hand to ensure the health of the tree for future production.
We have some more isolated alpine meadows at higher elevations that are put to rest. As the areas are undisturbed, wild flowers and aromatic herbs grow in abundance. Our hand collection methods do not disturb the wild flora and fauna. Some of these wild aromatic herbs, along with our vinegar are used in our delicious olive recipes.
Our farm is geared to creating produce of exceptional quality. We hope you'll enjoy them as much as we do.
Meet us at Borough Market& Spa Terminus
Oliveology started trading at Borough Market in 2010.
Borough market is one of the largest and oldest markets in the world, having been in continuous operation since 1014. Our humble beginnings took place at the glamorous Jubilee Market (Car Park)!
Three years later we finally moved into the beautiful renovated Three Crown Square section of Borough Market. We now trade amongst the beautiful art deco, green cast iron pillars. All the disruptions from Crossrail now seem worthwhile.
We take pride at being the first stall at Borough Market showcasing Greek produce. We also take pride to bring the first organic, unpasteurised Kalamata olives to the UK.
In March 2016 we moved into a permanent Stand in Three Crown Square. We now have the opportunity to showcase a wider variety of Greek speciality foods. Visit our new shop at Borough Market.
Our business premises are located in Spa Terminus, Bermondsey.
This is a converted Victorian Railway Arch (part of the old London and Greenwich railway line built in 1836).
Spa Terminus is a collaboration of like-minded food producers with high quality speciality produce and positive ethical practices.
The Bermondsey area has a rich history of food production and wholesaling. We are now a community of about 30 food businesses (link) trading a diverse range of specialist, regional produce from around the world. In addition to our weekday wholesale business, we open our Arch on Saturday mornings to our retail customers.
Visit us at Spa Terminus.
UK & Europe
Restaurants/ Cafes/ Bars/ Shops/ Collaborations
Poco Loco
Fernandez & Wells
Wild Food Cafe
Arabica
Tom's Feast
Story Coffee
Fortnum & Mason
Farmdrop
The Drink Factory
The Dome Shop
Little Bread Pedlar
The Free From Bakehouse
Pritchard & Ure London
Hand Cafe London
Hand Made Food Blackheath
Giddy Grocer Bermondsey
Millars General Store Lambeth
Millers of Kensington
Greekosophy Liverpool
Weino Bib Dalston
Kernel Brewery/Taproom
Moor Brewery
Legare
26 Grains Stoney Street
Meadows Cambridge
Liberte Cherie
The Angel Bakery, Abergavenny Wales
Manuka Wholefoods Chichester
Mons Cheesemongers Dulwich
Buvette
Ealing Grocer
Little Duck Picklery
Columbia Coffee Roasters Oxford
Sweden
Saltat & Speceri Handelsbolag, Malmo
Malta
The White Sheep
Iceland
Kjötkompaní
Hong Kong
Gourmet W