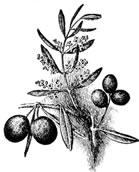 Group Events
Think of bespoke dinners using fresh, seasonal produce and unique ingredients. Cooking team-building activities around sizzling pots and baking trays. Large wooden tables and sharing platters filled with food. Guided tastings of Greek wine and spirits. Mini-escapes on idyllic Greek islands. Meeting artisan produces all around Greece. These are only a few of our experiences, tailored to the needs of your group.
If you are a large family celebrating a special occasion, a team of colleagues looking for something out of the ordinary, a group of friends in search of the perfect gift, a company honouring an anniversary, look no further.
For more than a decade, Oliveology has been bringing superior quality Greek ingredients to London. Oliveology's philosophy for ethically-sourced food, made in small farms by passionate people extends to its bespoke events. We source the best seasonal produce, collaborate with chefs, food anthropologists and artisan producers who share our ethics and passion and design experiences that will introduce you to our world of food.
Get in touch for us to craft together a unique experience.
Some of our experiences include:
Private cooking classes
Bespoke breakfasts, lunches & dinners
Wine and olive oil tastings
Talks on Greek cuisine and culture
Gastronomic sailing holidays
Organised visits to artisan producers